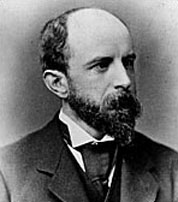 From
"The Dynamo and the Virgin"
in
The Education of Henry Adams
:
The historian was thus reduced to his last resources. Clearly if he was bound to reduce all these forces to a common value, this common value could have no measure but that of their attraction on his own mind. He must treat them as they had been felt; as convertible, reversible, interchangeable attractions on thought. He made up his mind to venture it; he would risk translating rays into faith. Such a reversible process would vastly amuse a chemist, but the chemist could not deny that he, or some of his fellow physicists, could feel the force of both. When Adams was a boy in Boston, the best chemist in the place had probably never heard of Venus except by way of scandal, or of the Virgin except as idolatry; neither had he heard of dynamos or automobiles or radium; yet his mind was ready to feel the force of all, though the rays were unborn and the women were dead.

Here opened another totally new education, which promised to be by far the most hazardous of all. The knife-edge along which he must crawl, like Sir Lancelot in the twelfth century, divided two kingdoms of force which had nothing in common but attraction. They were as different as a magnet is from gravitation, supposing one knew what a magnet was, or gravitation, or love. The force of the Virgin was still felt at Lourdes, and seemed to be as potent as X-rays; but in America neither Venus nor Virgin ever had value as force;—at most as sentiment. No American had ever been truly afraid of either.
~
Henry Adams
, born on this day in 1838